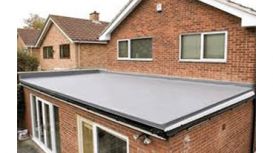 Flat Roofing problems have been an issue for clients for years. Having a felt roof with only about 10-15 years use is well out of date now. We can provide a roofing system which is within your budget and gives you a very good life expectancy. GRP last for up to 40 years and Rubberbond is proven to last for 50 years. We issue a 20 year guarantee with all our flat roofs.
RubberBond FleeceBack™ manufactured by Carlsile-Syntec USA, who pioneered EPDM roofing membranes some 50 years ago, has established a record of superior product durability and long-term weather resistance.
The greatest test of any construction material is how it performs under field conditions. The first membranes laid in the 1960's are still protecting flat roofs some 50 years later with over One billion square metres installed worldwide on Commercial and industrial buildings including Offices, Schools, Hotels.
---
Reviews and Ratings
We do not have any reviews about Kingston Flat Roofing available right now.