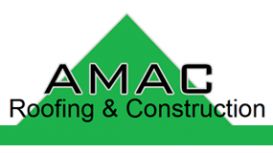 We are experts when it comes to supplying, installing, repairing and maintaining all types of roofing systems. Whether you are looking for regular maintenance for a commercial property or quote for your new domestic installation, we are here to help. We have been successfully trading within the industry for many years and have become a well known and trusted roofing company within Bristol, Bath and all surrounding areas.
We take great pride in the excellent services we provide and continuously look for way to further improve our services. As a company, we aim for excellence and ensure that each customer is left 100% satisfied with the services provide. We are licensed, insured and qualified to work within any domestic or commercial environment so you can rest assured that you will be in safe hands with AMAC Roofing.
Services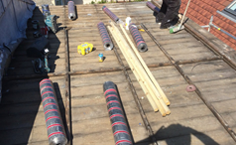 We are experts when it comes to supplying, installing, maintaining and repairing roofing systems. We are highly experienced and understand our industry extremely well. We can't take care of all aspects of roofing, so whether you require domestic repairs or commercial installations, we are here to help! All of our services are carried out by our highly trained professionals. We are fully insured, licensed and qualified to work within any domestic or commercial property. Our aim is to complete each job to meet our high company standards and achieve 100% customer satisfaction every time.
Reviews and Ratings
Williamson, Bristol, South West England
I'm very glad I found www.roofsbristol.co.uk, The company provided an estimate by email based on my assessment of the required work. This was followed by a visit by the company's estimator, who provided a final/fixed price for the job. The job took two days. They arrived on time and worked very hard, cheerfully, professionally and with great skill, care and consideration. Although the new coverings have yet to be tested in bad weather, I'm confident that Arron has done a good job for a very fair price. It is guaranteed for 15 years+. I'm happy to recommend them.

- Mr & Mrs JR Phillips November 2015
Mrs C Haythornthwaite Clifton, Bristol, South West England
We used www.roofsbristol.co.uk to undertook the replacement of my fascias and gutters in PVC to my three bedroom house in March 2010. They arrived earlier than expected to start the work and completed it in under four days. The team undertaking the work were courteous, friendly and hard working. They explained exactly what they were doing especially when a problem arose at the rear of my property. The site was cleared and tidied up at the end of the work to a good standard. The price I was quoted was the amount I paid with no hidden extras.

Despite a very heavy snowfall this winter the gutters and fascias have suffered no ill effect and they still look and perform today as good as they did when fitted. After sales response has also been good; when one small end cover displaced it was fixed quickly. I would recommend this company to my friends.
James Phillips, Bristol, South West England
Very good service we used for a Roof Repair to our property in Bristol.
---